Tomorrow it begins. If the conventions are the real Opening Day for election season, then we should find ourselves quickly in the pennant race with the debates. To hear the candidates tell it, however, this is nothing of the sort. The pre-spin on both sides is all about how winning isn't that important, or even relevant. It's almost as if there is nothing to actually win and that the Debate in Denver is just an exhibition game with no conceivable impact on the outcome of the Championship to be held on Election Day.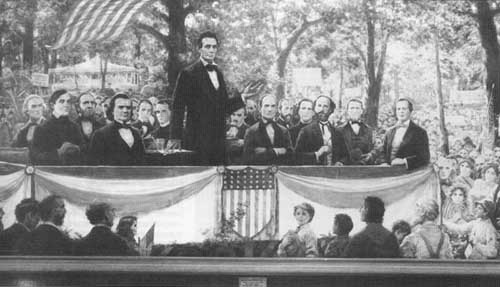 This seems to be in stark contrast with what much of the electorate imagines can happen in a debate. I, for one, think every debate can be Lincoln and Douglas: intellectual titans delivering oratory, vision, and zingers in equal measure. They should be a forum for ideas and reason and the spirited flexing of rhetorical muscles. The trouble is that I am totally wrong. After all (a) the famed Lincoln-Douglas debates weren't even for a presidential election (they were for the 1858 Senate race in Illinois) and (b) history shows that fatal blows are rarely attempted, let alone landed, in a modern American presidential debate.
In my last few posts I've talked a lot about the impact of television on campaigning. It's not been an intentional theme, but it's recurring one, and clearly important. Since the first televised debates in 1960, the potential downside of a debate performance has increasingly outweighed the upside. As campaign news coverage has increased, there's been less and less room for a candidate to bring new ideas before the American people in a debate. With the advent of the 24-hour news cycle, anything a candidate might say, any position they might hold, has probably been presented to the public in a hundred different ways. So, in short, the debates offer little to be gained directly through a candidate's words. There is, however, a whole lot to be lost. Television can be an unforgiving medium, exposing weaknesses the public and to the micro-scrutiny of professional punditry. And nothing is lost. In fact, debate flubs seem to grow in importance and exposure than do their positive counterparts (i.e., well-communicated ideas). This is why candidates who present themselves poorly are far more memorable to those who "win" the debate itself.
Those moments that stand the test of time are the ones where candidates did more damage to themselves than to their opponents. Mostly such gaffes happened would have gone unnoticed before the advent of television: Nixon constantly dabbing his sweat while standing across from Kennedy; George H. W. Bush checking his watch against Clinton; or Gore looking visibly frustrated and put out for even having to debate George W. Bush. In fact, Reagan's "There you go again" stands as one of the few memorable zingers to do real damage to an opponent, doing away with Jimmy Carter's push for national health insurance in four words. Other than that, only Lloyd Bentsen's dismissal of a young Dan Quayle as "No Jack Kennedy" is truly preserved in debate lore as a lasting attack, and that was on the undercard.
So tomorrow, when you're yelling at the TV because your candidate is too cautious and misses an opening for a knockout punch, remember the odds: that there's a lot better chance that he might be a Ford than a Lincoln…of course, even a broadcast blackout may not have saved Ford from this one.