That there is a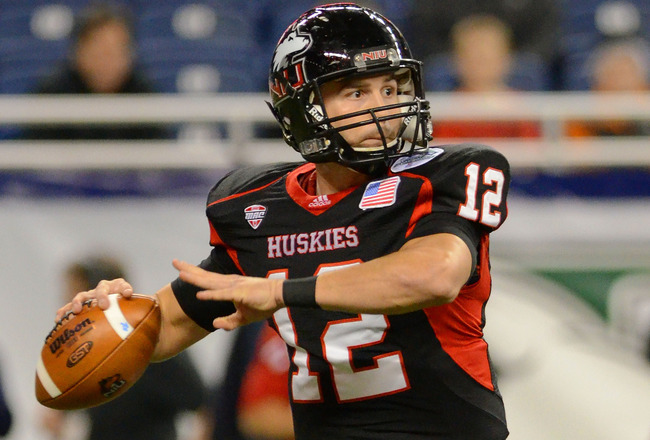 picture of Chandler Harnish. Heard of him? Probably not. It's likely that you wouldn't have either, had you not clicked over to this blog today. He's someone special. During last week's NFL Draft, he earned the title of Mr. Irrelevant 2012 by being the last player selected. Here at Plays for Presidents, we've been watching our own similar competition unfold for honor of President Irrelevant. With 34 of our productions announced, and most of the remaining presidents reserved but unrevealed, President Irrelevant's anointment seems imminent.
This is not to say being chosen last actually makes one irrelevant. Among the football players, some Irrelevants become all-stars (like Jacque MacKinnon, 1961) or appear as a contestant on The Bachelorette (like Ryan Hoag, 2003), and it can be generally assumed that Mr. Irrelevants, one and all, are loved by their friends and families. It's just that the rules of the playground dictate that fun be poked at the last kid (or POTUS) picked.
Way back on Sunday when I started sketching this post, a cage match, mano a mano (if mano actually meant 'man') seemed to be brewing: James vs. James, Madison vs. Garfield. Madison appeared to be the prohibitive favorite for relevancy. He is literally a more conventional choice, given that he basically penned the Bill of Rights at…the Constitutional Convention. So, of course, I am going to make the case for Garfield as the way cooler choice for one's Plays for Presidents production. He may be a relative unknown, and he may have been the second shortest serving president, but just this once he should out-relevant a founding father.
In my previous posts about Fillmore, Arthur, and McKinley, I tried to construct a convincing, if strained, narrative attesting to unsung executive awesomeness. I haven't quite built a coherent story here, so I will go for classic lazy-man's-column-approach and give you the List of Five Cool Garfieldian Factoids.
1. He loved his wife. Awwwww.
James Garfield's courtship with Lucretia Randolph was kind of meandering for the day. They met at the Geauga Seminary in around 1849, but it was four years before they began dating and another five before they married. James was fast mover. But do not think that because James was slow on the draw his love was lukewarm. Once when "Crete" fell ill, James wrote to her, "When you are sick, I am like the inhabitants of countries visited by earthquakes." That's sweetness is what that is.
2. He wrote with the Left Hand of Awesomeness.
It is widely believed that Garfield was our first left-handed president. Or at the very least he was the first openly left-handed president, considering that being left-handed was considered a disability (or just plain evil) and that previous southpaw POTUSes may have been disabused of those habits by stern teachers. This reprogramming may have been attempted on Garfield, as legend had it that he could simultaneously write in Greek with the left hand and Latin with the right. This seems pretty fantastical, but remember it does have the positive attribute of supporting my point.
3. He was a guinea pig for medical gadgetry.

Garfield served in the age of tinkerers and polymaths. Basically, classy versions of kooks who built largely useless crap in their sheds. After he was shot by Charles J. Guiteau, he hung on for 80 days, but doctors never found the bullet, and not for want of effort.  Alexander Graham Bell was summoned to create a suitable gizmo for tracking the bullet. The result was a sort of proto-metal detector, or "induction balance," that essentially adapted some of his more famous (and successful) telephone ideas to generate a hum in the presence of metal (e.g., a bullet). It was a really good effort, but a total failure. Garfield tied, bullet in tow.
4. He may have been a klutz.
Clumsiness humanizes. I believe this strongly, and especially as one possessed of middling coordination at best. It is not clear if James Garfield shared this belief, but he should have. At the age of 16, not content with farming life in Moreland Hills, OH, he ran away for to do some man's work, real rugged stuff, on a canal. Life as mule skinner and canal driver taught young James tough lessons, not the least of which was probably "Don't stand too close to the edge, Jimmy." During his short stint, a couple of months at most, Garfield fell in the P&O Canals 14 times, a frequency that belies history's premature coronation of Gerald Ford as America's Klutz in Chief. He would return suffer from ague – I wonder why – and begin his life of thinkerly pursuits.
5. What coulda been.
Assessing Garfield's presidency is a little unfair, as he spent 40% of it trying not to be dead, an effort that, as we know, did not succeed. On the one hand, he may ended up being overly supportive of abuses by the big businesses of the Gilded Age. He opposed the Granger Laws, for instance, which protected farmers from being fleeced by the railroads, calling them "communism in disguise." In other instances, he seemed to be an advocate for the lot of common man, setting in motion the civil service reform passed under Arthur, making such jobs based on merit and not just patronage. Most of all, though, we wonder how he might have influenced the post-Reconstruction South. In his inauguration, he unequivocally called out the institution of slavery and the need for the nation to erase all vestige of it for the greater good:
"The elevation of the negro race from slavery to the full rights of citizenship is the most important political change we have known since the adoption of the Constitution of 1787. NO thoughtful man can fail to appreciate its beneficent effect upon our institutions and people. It has freed us from the perpetual danger of war and dissolution. It has added immensely to the moral and industrial forces of our people. It has liberated the master as well as the slave from a relation which wronged and enfeebled both…[T]hose who resisted the change should remember that under our institutions there was no middle ground for the negro race between slavery and equal citizenship. There can be no permanent disfranchised peasantry in the United States. Freedom can never yield its fullness of blessings so long as the law or its administration places the smallest obstacle in the pathway of any virtuous citizen."
Amen, Mr. Relevant.